Gemma's design was the cream of the crop
Published: Monday 9 May 2022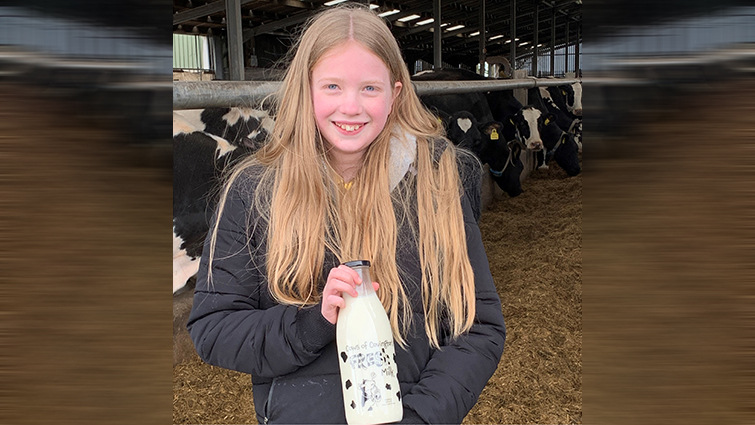 An arty schoolgirl will have her talent displayed on one of life's essentials – bottles of milk.
Gemma MacMillan, from Robert Owen Memorial Primary School, in Lanark, was the winner in a competition run by the Baillie family of Hillhead of Covington Farm near Biggar and supported by the Royal Highland Educational Trust (RHET).
Through the RHET Clyde, William and Jennifer Baillie are volunteer farm hosts and host visits to their farm from schools.
So with their new glass milk bottles coming out of their vending machines at the farm and in Brownlie's of Biggar, who better to turn to than local pupils to design a label for them?
In all, 31 schools took part, with the entry from 10-year-old Gemma taking the top spot and Mia Leitch (also 10), of Biggar PS, proving an excellent runner-up and winning a basket of assorted milk products from the farm for her class.
Gemma's label design is now in production and she also won a farm visit for her whole class where they saw how the milk was produced, pasteurised on site and on sale at The Milk Hut nearby.
The Milk Hut supplies milk, shakes, cakes and coffee outside the farm and each month it donates money to a chosen children's charity, with all of this month's proceeds being donated to the school's charity.
Gemma's teacher, Rachel Murphy, said: "I am so impressed with Gemma's winning design and it was a wonderful opportunity to be able to visit the farm with my class. We had an amazing day and learnt so much about the work there is in producing the milk we enjoy in our homes."
The Baillie Family said: "It was great to have so many inventive and talented entries from the P6 schoolchildren, and we love seeing the winner in print. It is a wonderful design and perfect for our milk bottles."
One thing's for sure – every time Gemma sees her design, she'll find it a moo-ving experience!