Mobile hub takes business support on the road
Published: Wednesday 6 April 2022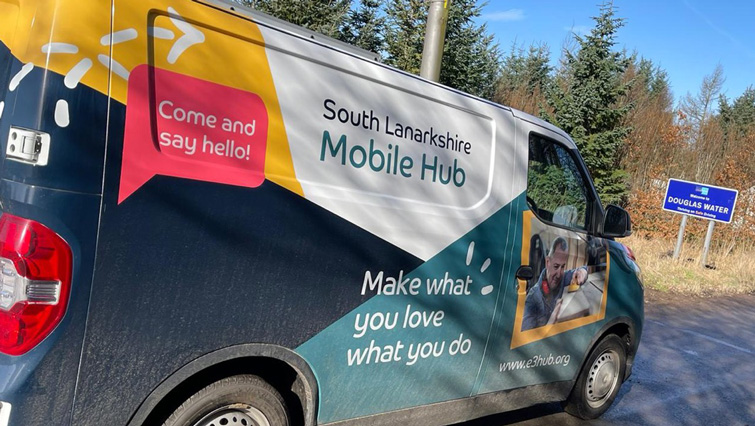 Community enterprise project E3 have taken business support on the road in a new Mobile Hub.
They are bringing their services to local and rural communities, and the electric and solar-powered van operates as a fully equipped mini-hub, with all the facilities needed to bring E3's support to rural towns – or even people's doorsteps.
E3 opened up two community hubs in Lanark and Blantyre earlier this month, and now the team are also touring rural South Lanarkshire in the Mobile Hub during April to interact with local businesses in all areas.
Working closely with South Lanarkshire Council, the E3 project aims to engage, inspire and support South Lanarkshire people and businesses in every corner of the council region as part of the UK Community Renewal Fund (CRF).
Lynne Kirk, Blantyre Hub Manager, said: "Having the van really helps us reach a wider community that doesn't always see this kind of service. Some of our clients have already mentioned that they feel as though rural communities are often left behind – we want to change that."
So far, the team have visited the areas of Abington, Douglas, Biggar and Lesmahagow and many of their surrounding villages and neighbourhoods.
Lynne added: "We've felt very welcomed by locals and had loads of interaction – we've even had people waving to us as we drive past."
The team have set out a 'Van Plan' of destinations to visit, which they'll announce weekly via social media.
Christine Lee, Lanark Hub Manager, said: "So far, the van tour has been a whirlwind and South Lanarkshire's rural areas are showing us their different sides as the weather changes.
"Every community we've visited has been welcoming and I've discovered places I've never been to before, as well as revisiting places from my childhood. It's very nostalgic."
For regular updates on the E3 Van Plan, follow them on Facebook or Instagram, or visit their website for more information of support on offer.