Mum's example led Wendy into career she loves
Published: Friday 1 April 2022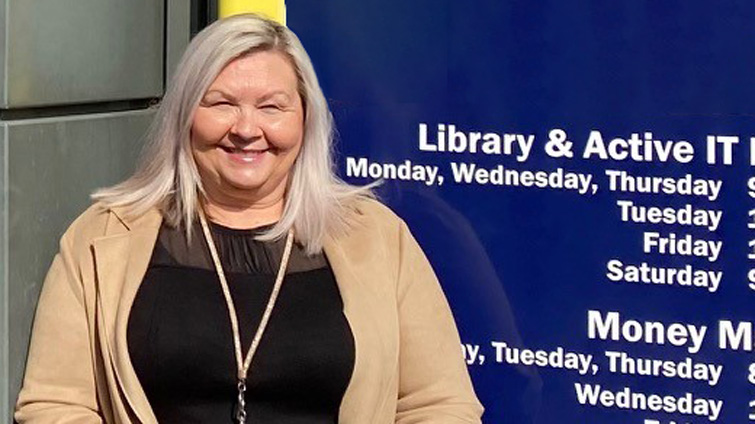 Our special series continues, looking at those working in the heart of our communities as part of our Care at Home service.
Following closely in her mum's footsteps into Care at Home seemed natural for one woman – so natural that she's still there 35 years on.
Wendy Murray has seen the service from all sides, having worked in six different roles, and loves the difference she knows it makes to people's lives.
Now 54, Wendy started as a home carer with South Lanarkshire Council when she was 18, following her mum's example about as closely as you can get.
She said: "My mum started in this job and it felt the right thing for me to do as well, so I just went for it right at the same time! I worked as a home carer for four years before I saw an advert for an Implementation Officer.
"That was a big change as it was my first ever office job, but I really enjoyed it, assisting the team with tasks such as observations, risk assessments and supervisions for home carers across all localities."
The post came to an end in 2002 and Wendy resumed duties as a home carer until she was successful in gaining another new post three years later, working as a Social Work Assistant in Rutherglen/Cambuslang within the Older People's Team.
Restructuring in 2010 saw her move back to Care at Home as a Community Support Coordinator, responsible for line managing both staff and a case load and, during this time, she also had the opportunity to be involved in the team responsible for assessing services users to facilitate their discharge home from hospital.
Since 2018, Wendy has served as a Team Leader and is able to bring the experience and understanding she has gained over the years to help others – although it is not just at this point that she has found her experience to be helpful.
She said: "Right through my time, I have always found that changing role not only was interesting but also gave me something new that was helpful further down the line. For instance, my experience as an implementation officer definitely helped me to be successful in getting the Social Work Assistant post, and the line-managing as a Community Support Coordinator helped prepare me for my current job.
"The basis for it all, of course, was working as a home carer and I loved those times. When you are in direct contact with the person, you see instantly the difference you are making – it is such a meaningful job.
"My change of role has taken me away from that and I do miss being in the community because, of course, that is where the heart of home care is and always will be, but I know I can still contribute towards that as a Team Leader and also help others in making their contribution, too.
"At the end of the day, it is very rewarding and satisfying to know that hard work pays off and you can do anything you put your mind to. If anyone is considering this as a career, I only have one message for them: 'Go for it!'"
Soumen Sengupta, Director of Health and Social Care, said: "It is fantastic to hear a story like Wendy's, she has basically dedicated her whole life to caring for others and it is wonderful that she was inspired to do so by her mother.
"Wendy is just one example of the outstanding staff we have across the Care at Home team, and I am immensely proud of the work they do every day, often under challenging circumstances.
"Our staff work exceptionally hard – and challenge themselves – to do their best to ensure that people across South Lanarkshire receive the right care in the right place at the right time."
The service is recruiting now, and you can find out more online.