Jessie praises care as "life changing"
Published: Friday 25 March 2022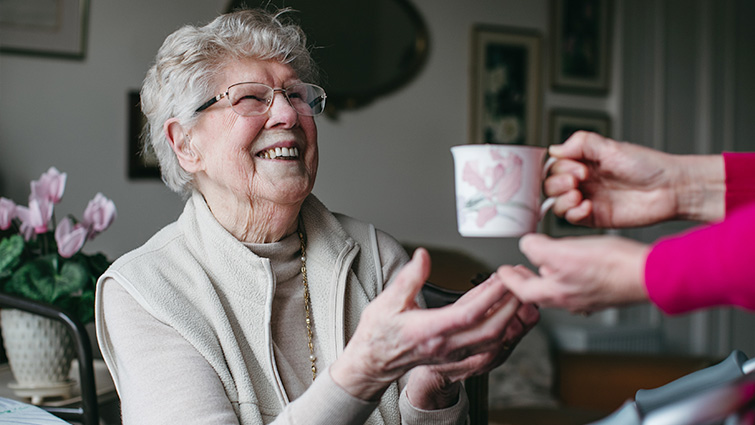 In this special series, we look at the people working in the very heart of or communities as part of our care at home service.
This week we focus on a service user and her story.
When Jessie Turner was admitted to hospital last year having suffered a stroke, she feared she might not return to her Cambuslang home.
Having only just recovered from a hip operation, the still active 94-year-old was convinced that her much-prized independence was at risk.
However, thanks to South Lanarkshire Health and Social Care Partnership's (SLHSCP) innovative Home First programme she has been able to recover and rehabilitate in the comfort and security of the house she's lived in for decades.
The programme takes an integrated approach to supporting people in the community who might otherwise have experienced a lengthy stay in hospital and builds on a well-established spirit of partnership working between the key agencies involved in their care.
Now, more than £4 million is being invested to recruit more health and social care staff to make sure that this experience continues to be the rule rather than the exception.
Since leaving hospital in October, Jessie has been under the care of the Reablement Team. She admits that, having never had need of care before she was "a little unsure about what to expect". She now describes the package of support given to her as "life changing".
She adds: "I don't know where I would be without the carers who come in every day; I feel so fortunate. Thanks to Home First, my home carers, the hospital physiotherapists, and occupational health all worked together and planned things so that I could not only get back to my home but live well there.
"I had my first stroke ten years ago and the difference in my experience then, as compared to now is night and day. My stay in hospital this time was only a few weeks because so many people came together to make it so.
"Everyone has been incredibly kind. Not only do I have the adaptations I need to my house, but the physiotherapist support to get stronger, and twice daily visits from home carers who make me feel safe and looked after."
Since Jessie's GP husband died in 2005, she has been supported by close family, who she describes as "angels". As well as giving her practical support to supplement the team's efforts to get Jessie back home, they have also helped her join the online community. Because of that she can continue to be part of her church community during covid.
"I'm no expert" laughs Jessie, "but I can do what I need to do. What's lovely is that my home carers support me with this too and talk me through any technical issues that come up as they know what my faith and being able to celebrate it means to me.
"Having this team of people in my life has made more difference than I could ever have imagined, medically, practically and emotionally and I cannot thank them enough. I would encourage anyone thinking of joining the team. From my own point of view, it's a chance to be there and change the life of someone who really needs it."
One of the Home Carers who visits Jessie regularly is Annemarie Docherty. She only recently came to the profession after more than 20 years in retail but has never looked back.
She explains: "In Jessie I have had the privilege of meeting and helping someone who is everything I would want to be. She has the most amazing mentality and approach to life and it's a genuine pleasure to spend time with her. We have built up a lovely rapport and I know that she looks forward to my visits as much as I do. It's a type of job satisfaction I've never experienced before or could have hoped I would. It's the best decision I ever made."
Soumen Sengupta, Director of Health and Social Care, said: "We are committed to ensuring our service users can live as independently as possible and Jessie is a fantastic example of that.
"Our staff work exceptionally hard – and challenge themselves - to do their best to ensure that people across South Lanarkshire receive the right care in the right place at the right time."
The service is recruiting now, you can find out more by visiting the myjobscotland website.