It's time to talk about tourism
Published: Wednesday 19 January 2022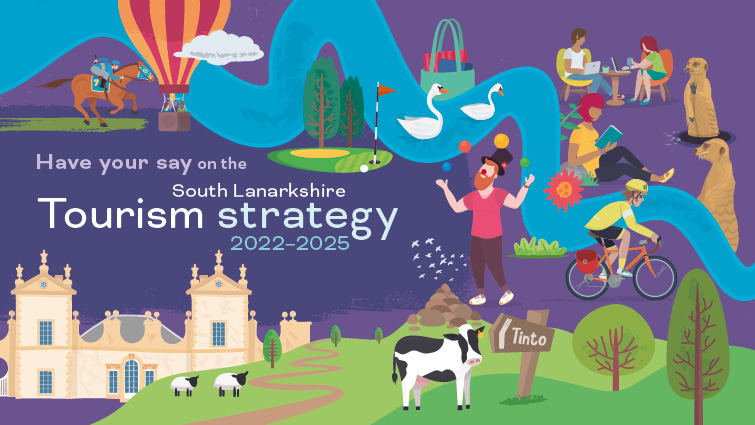 From days out to spa breaks tourism is vital to South Lanarkshire and it's time to have your say on how the council supports it.
The new South Lanarkshire Tourism Strategy is now out in draft form for consultation.
As we look towards recovery and growth it is expected the long-standing importance of the tourism economy in the area is only likely to increase.
The council's Economic Development Team has been hard at work developing the draft Tourism Strategy and has engaged with colleagues across the council and in partner organisations including VisitScotland, the Scottish Tourism Alliance and more.
Local businesses and residents can now take a look at the draft document online, and have their say on the contents. You can find it on the council website, where you will also find a link to the feedback survey to share your thoughts.
Chair of Community and Enterprise Councillor John Anderson said: "Tourism is a key part of the South Lanarkshire economy. We are very keen to support and nurture growth in the tourism sector, taking advantage of South Lanarkshire's natural environment, heritage, and culture.
"We want to attract visitors from across Scotland and the UK and also bring more people from abroad to find all we have to offer. We also want to encourage local people to make the most of what they have on their doorstep, and to support local jobs and businesses by spending their recreational time and money closer to home."
The draft strategy identifies six priority areas:
PEOPLE - The South Lanarkshire tourism sector will become a career of choice. Our sector will attract, develop, and retain a skilled, committed, diverse and valued workforce.

PLACE - We will create and develop an attractive and competitive visitor destination.

BUSINESS - We will build business resilience, sustainability, improve business viability and profitability.

MARKETING - We will raise the profile of South Lanarkshire as an attractive visitor destination.

RESPONSIBLE TOURISM – We will develop a sustainable visitor economy, maximising the positive impacts, and minimising any potential negative impacts.

PARTNERSHIP WORKING – Through partnership working the South Lanarkshire tourism sector will collaborate efficiently to realise the sector's full potential.
The full document can be read online and remember to add your voice to the discussion.