School community recognised for Fairtrade commitment
Published: Wednesday 22 December 2021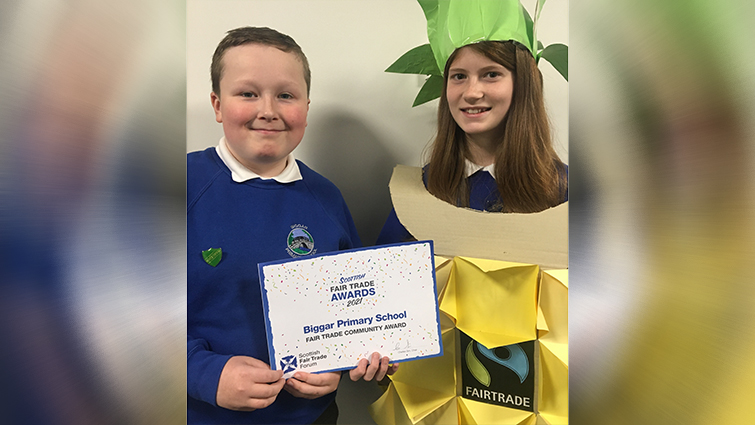 A primary school in Clydesdale has scooped a prestigious Scottish Fair Trade Award.
Biggar Primary School won the Fair Trade Community Award, having been a Fairtrade school since 2009.
The school has a Fairtrade committee with representatives from all year groups and staff, and has built links with other individuals and organisations in the town who are interested in Fairtrade.
It was instrumental in setting up the Biggar Fairtrade Town Steering Group and led the application which resulted in Biggar becoming a Fairtrade Town in 2019. As pupils have moved up to Biggar High School they have promoted Fairtrade there too.
Over the years the school has been involved in a number of events to promote and highlight Fairtrade, including dedicated stalls, a beat the goalie competition, artwork for shop windows and celebrating Fairtrade Fortnight every year.
Head Teacher Heather Graham said: "We are absolutely thrilled by the award and it is testament to the hard work of the whole school community.
"We always strive to help young people to understand the benefits of Fairtrade and the difference it makes to people's lives.
"We also reach out to the wider community to involve them in Fairtrade issues.
"Because of this, hundreds of young people and their parents are aware of the benefits of Fairtrade and have continued to support it as they have moved through life."
Chair of the council's Education Resources Committee, Councillor Katy Loudon, said: "Huge congratulations to everyone at Biggar Primary School for winning this award.
"They have clearly went above and beyond when it comes to promoting Fairtrade and thoroughly deserve to be recognised."
South Lanarkshire Council sponsored the Climate Partnership award at this year's Scottish Fair Trade Awards, which was won by The Balmore Trust and Grace's Briquettes Project.