New economic strategy launched for region
Published: Tuesday 7 December 2021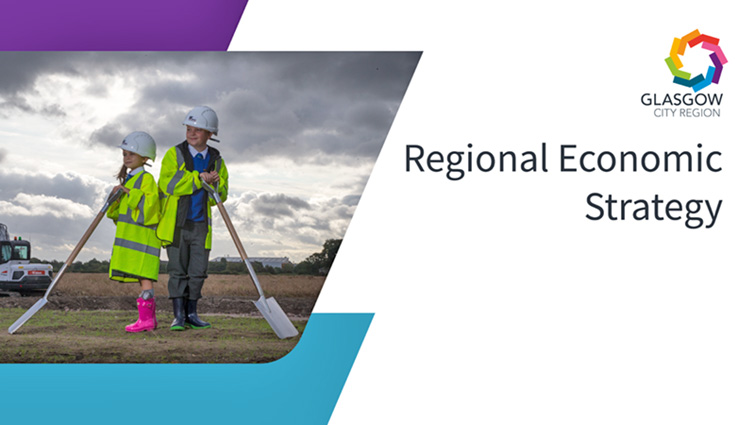 A new economic strategy has been launched for Glasgow City Region.
It is set to have a profound impact on wider public sector policy, decision-making and spend over the next ten years for the local area of 1.8 million residents and 50,000 businesses.
The strategy sets the approach for how the Region will weather current and future key challenges, some of which are expected to completely disrupt our way of life - including the impact of Covid-19, the climate emergency, and unprecedented technological advances.
The approach is a first in that it has been developed and endorsed not only by the Region's eight councils, but by government and wider public sector agencies including Scottish Enterprise and Skills Development Scotland - all of which will be instrumental in its delivery.
The strategy, developed by the Region's Intelligence Hub, is the result of months of extensive research with input from partners across the councils, government agencies, local universities, the business and third sectors. It is underpinned by an in-depth analysis of the Region's strengths and the current and future challenges faced - collectively and individually by the eight council areas of Glasgow, East Dunbartonshire, East Renfrewshire, Inverclyde, North Lanarkshire, Renfrewshire, South Lanarkshire and West Dunbartonshire.
Leader of South Lanarkshire Council, John Ross, said: "As the employability lead for Glasgow City Region, I am really enthusiastic about how our new Regional Economic Strategy can help create more, and better, jobs across the area.
"South Lanarkshire already has the highest proportion of quality jobs in Scotland – based on wages, hours and contract terms.
"But that is not enough. If we are to succeed in our Regional economic strategy mission to have the most inclusive economy by 2030, we need to do more.
"That is why South Lanarkshire will be at the forefront of delivering the new Regional programme to encourage employers to offer fair and healthy work practices.
"As highlighted by the pandemic, from the provision of social care, to the food we consume, and the education we receive, there are some sectors which are critical to our living standards –the foundational economy. Growing and enhancing the foundational economy is vital for the prosperity of communities and a key part of the new Regional Economic Strategy.
"And make no mistake about it - growing our communities and making them more prosperous is vital.
"We are delighted to work with partners to deliver this new ambitious Regional Economic Strategy. One that is founded on a rigorous evidence base and designed to help us transform our economy to benefit all of our residents."
Chair of the Glasgow City Region Cabinet and Leader of Glasgow City Council, Susan Aitken said: "Over the next ten years, the Glasgow City Region economy will be increasingly shaped by incredible technological advancement and the imperative to achieve net zero. There will be challenges but also generational opportunities.
"Our new Regional Economic Strategy recognises where our strengths lie, how we compare to other major Regions and the key issues faced collectively by the Region and its eight partner councils.
"It brings clarity to our priorities and informs decision-making around issues of place, skills and health, and how to achieve net zero in a way which also delivers inclusivity, growth and prosperity."
UK Government Minister for Scotland Iain Stewart said: "This is an ambitious plan with a focus on sustainability and creating opportunity throughout.
"The UK Government is working closely with the Glasgow City Region partnership and will continue to support their goals through its regional investments.
"We are delivering more than £1.7 billion for projects across Scotland, helping to level up communities."
Scottish Government Trade Minister Ivan McKee said: "This Strategy puts the 1.8 million residents of the Glasgow City region at its heart, delivering opportunities to grow and recover from this very challenging period for businesses and workers.
"The Scottish Government supports the Strategy's mission to advance a just transition to net zero, creating a more inclusive economy focused on improving productivity and wellbeing.
"This Strategy showcases what can be achieved when a region works together as a partnership, coming together to focus on recovery from the pandemic and the impact of Brexit. I have every faith that regional partners will continue to work together to deliver a positive impact over the next decade as we help create a fair and prosperous economy for all."
A copy of the strategy is now available online.