Strathaven Park in UK top 10 again
Published: Monday 6 December 2021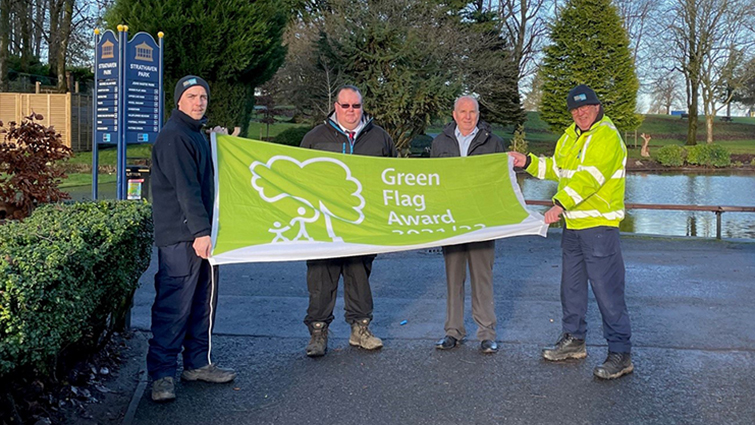 Strathaven Park has been voted in the top 10 in the UK People's Choice awards for a sixth year.
At an online event to celebrate the 25th Anniversary of the Green Flag Award, Strathaven Park, which has held its Green Flag since 2013, made it into the top 10 in the People's Choice UK vote. And as well as consistently achieving this since 2016, this year it was also ranked first in mainland Scotland.
Chair of South Lanarkshire Council's Community and Enterprise Resources Committee, Councillor John Anderson, said: "I am delighted that Strathaven Park has been voted top in the Scottish mainland this year.
"Anyone who visits the park cannot help but wonder at how much hard work must go into keeping the area and all its facilities in such a pristine condition.
"All the staff and volunteer groups must be congratulated for their dedication and passion for maintaining the park at such a high standard year after year."
The Green Flag Award event was hosted by Keep Britain Tidy, Keep Scotland Beautiful, Keep Wales Tidy, and Keep Northern Ireland Beautiful.
Barry Fisher, Chief Executive of Keep Scotland Beautiful, commented: "I am not surprised that Strathaven Park has once again featured as one of the most loved parks in the UK – it shows just what an important place the park is for the local community and those who visit.
"Spending time in nature can be good for people's health and wellbeing, and merely living in a greener neighbourhood can be good for health. The Green Flag Award recognises the valuable, and tangible contribution that these parks make towards the nation's well-being."
Almost 80 Scottish parks were presented with a Green Flag Award this year, joining more than 2000 across England, Wales and Northern Ireland.
In South Lanarkshire, Strathaven Park was joined by Cambuslang Park and Castlebank Park in being honoured with a Green Flag.
The accolade acknowledges quality green open spaces across the country that help to boost our nation's health and wellbeing.
A detailed map of all Scotland's Green Flag sites can be found at: www.keepscotlandbeautiful.org/parks