Community group's pandemic response praised
Published: Monday 18 October 2021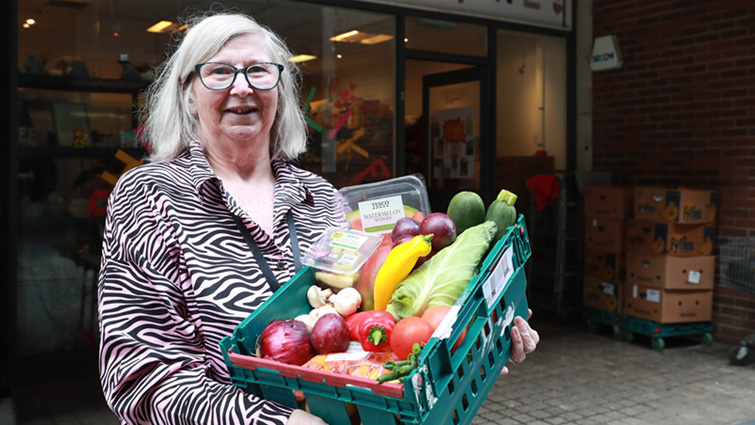 A community group has been praised for its response to helping some of the most vulnerable people in their area.
Share Alike, based in East Kilbride, offers support through mental wellbeing services, crisis food and clothing distribution and a community wellbeing café. Key aims are to reduce the effects of poverty, waste and isolation in our community, and increase mental wellbeing.
The project is run entirely by volunteers and relies on surplus food/clothing from retailers and public donations to distribute.
The volunteers are part of the wider Covid-19 response team that was co-ordinated by South Lanarkshire Council's Community Engagement Team.
All through the pandemic Share Alike has been delivering food parcels to some of the most vulnerable people in East Kilbride, following up on referrals from the community wellbeing phone line.
The Community Engagement |Team has also been supplying food to the group to help it deliver the parcels.
And Share Alike is part of a wider network that helped develop the Good Food Recipes booklet which is being distributed across the council area.
Chair of the Community Planning Partnership, Councillor Maureen Chalmers, said: "The work that Share Alike has been doing has been absolutely vital, helping some of the most vulnerable people in our community.
"Its response to our appeal to join the Covid-19 response team was almost immediate, and since then the volunteers have worked every day to ensure food parcels reach those who need it most.
"Groups like these are the lifeblood of our communities and I cannot thank them enough for everything they have done, and continue to do."
Annmarie Campbell, a volunteer with Share Alike, said: "The project truly is for the community by the community. All our initiatives rely on public donations and support to continue.
"We have also forged a new era in crisis food support by offering access to fresh and frozen items as well as the usual ambient food items given out by foodbanks.
"A key aim here was to help prevent ill health mentally and physically often associated with consumption of purely long-life items and so assist in reducing the health gap between rich and poor."
As well as food parcels, the group continued its wellbeing work through virtual classes, support groups, support/contact calls to isolated and distributed mental health packs, period poverty packs, crisis clothing and new baby/home packs throughout the pandemic.
Volunteers also delivered hundreds of prescriptions to those shielding and assisted with all requests for support in East Kilbride and surrounding area for ad hoc welfare support such as wheelchairs.
The group also established a local Christmas initiative to help bring the community together called East Kilbride Christmas Kindness Campaign. The group encouraged retailers, charities and the community to work together under one campaign to help ensure no-one was left feeling alone during the holidays.
They even encouraged children to make home-made cards and gifts to distribute to elderly/isolated adults. The campaign distributed over 2,000 Christmas packs including 300 to local care homes and adults isolated from family due to the pandemic. They also delivered some on Christmas Day with Christmas dinner and delivered 200 Christmas hamper packs to families.
Share Alike intends to do the same this Christmas and is looking for donations to help achieve its goals.
More information on the group is available from its website and you can also get in touch by calling 03003657800 or by email.
You can also email the Community Engagement Team at the council for more information and what the team is doing in your area.