New support for science and technology teaching
Published: Monday 11 October 2021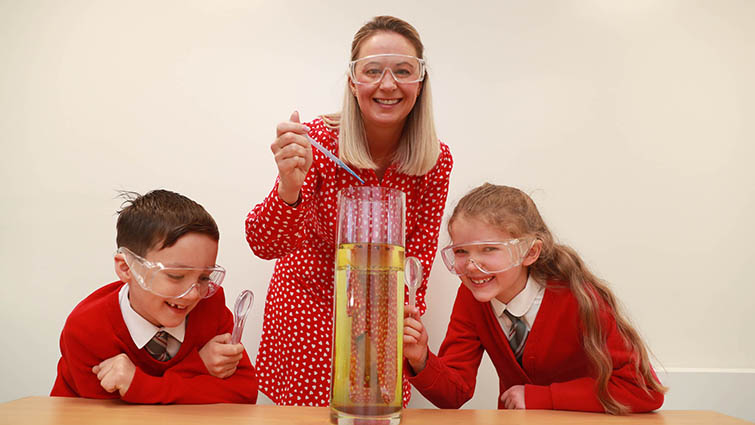 Primary pupils in South Lanarkshire are set to benefit with a new resource to support lessons in science and technology.
Thanks to funding through the RAiSE (Raising Aspirations in Science Education) programme a Primary Science Development Officer (PSDO) has been appointed for South Lanarkshire. Taking on this new role will be well known local teacher Gillian Reilly who will take a lead in supporting professional learning, networking, and partnership opportunities to bring STEM learning to life.
The council is working in partnership with The Wood Foundation, the Scottish Government and Education Scotland to deliver the RAiSE programme in South Lanarkshire. In addition to funding the PSDO posts it also delivers the opportunity to join a national network which has engaged 20 of Scotland's local authorities, and continues to grow.
South Lanarkshire's PSDO Gillian Reilly said: "I have taught in a South Lanarkshire primary for 17 years, most recently with a focus on delivering science education for the whole school, so I am delighted to be involved in this exciting venture to support teachers across the council.
"Children absolutely love experimenting, having chances to be curious and figuring out how the world around them works. I will be supporting schools on how STEM can be embedded at an early stage and for it to be seen as a real asset for addressing improvement priorities, while developing the opportunities that really help to bring "learning to life" for children in our primary schools."
RAiSE supports teachers to develop the skills, networks, and confidence to develop and deliver motivating and engaging STEM learning experiences which align with local priorities, as well as national drivers.
Councillor Katy Loudon, Chair of the Council's Education Resources Committee, said: "As an authority, we know developing a STEM skills pipeline is incredibly important in terms of our economic future.
"There are many benefits in getting young people engaged with STEM from an early age. We are pleased to receive this funding and join a network which can support our practitioners to really excite and engage our young learners."
Gayle Duffus, National Education Officer leads the RAiSE programme. She said: "There is a lot of great work to build upon and we're looking forward to developing a plan which reflects the local needs and context of South Lanarkshire."
The PSDO post is funded for a period of two years.