Have fun but put safety first #RespectTheWater
Published: Thursday 10 June 2021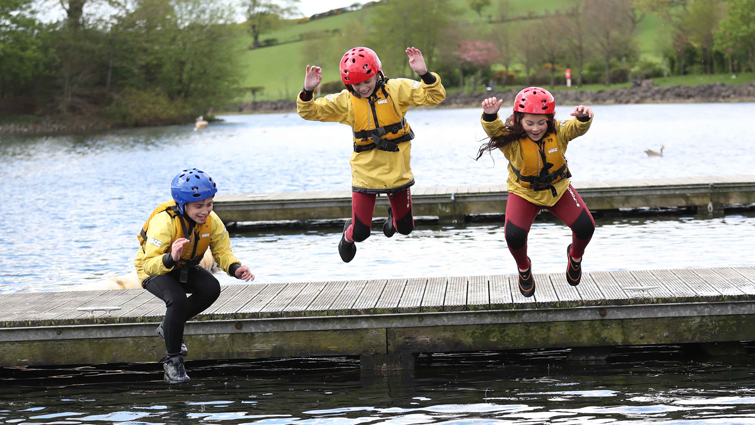 With summer here and Covid rules easing lochs, rivers and ponds can look enticing but there's a warning to #RespectTheWater.
Water Safety Scotland and safety charity RoSPA (Royal Society for the Prevention of Accidents) are backing a summer safety campaign to highlight how easily a cooling dip or a fun splash about can go dangerously wrong.
Figures show that tragically around 97 people drown each year in Scotland. Last year the number of drowning fatalities rose above that with 99 lives lost.
South Lanarkshire's Chair of Community and Enterprise Resources, Councillor John Anderson, said: "It is very welcome that we are now in a position to encourage people to get out and about and enjoy all that South Lanarkshire and Scotland has to offer but it is vital that we put safety first especially around water.
"We are giving our complete support to the Respect the Water campaign and its core message of have fun but stay safe."
Carlene McAvoy from Water Safety Scotland said: "Last year, post lock down, people flocked to the coast and inland waters and there was an alarming increase in drowning incidents across the UK.
"Water Safety Scotland is particularly concerned that the easing of lockdown conditions this year may see another surge in drowning incidents as people head to beaches, rivers and other waterways.
"Water Safety Scotland is keen for people to get out and enjoy the waterways of Scotland, but we want people to do this safely."
Key safety tips include:
Stop and Think, Spot the dangers
Scotland's Waters can be very cold even in the summer which can lead to Cold Water Shock
Check for any signage or flags which could warn you of potential dangers
Alcohol/drugs and coastal or inland waters don't mix - they can reduce coordination and impair judgement and reaction times
The depth of the water may hide underwater ledges, hidden currents and unseen items
Be aware of other water activities that may pose a threat to you
If it is safe to enter the water, ensure you have a safe way out
If you are at the coast have you considered rip currents, offshore winds and the tide?
Stay Together, Stay close
It is better to go near the water with a friend or family member
Float – If you are in trouble in the water, float until you feel calm…then think what to do next
If you fall into water, fight your instinct to swim until cold water shock passes
Lean back, extend your arms and legs
If you need to, gently move them around to help you float
Float until you can control your breathing
Then call for help or swim to safety.
In an emergency:
If you see someone in trouble, do not enter the water
Look for a throw line or life ring to help whilst you wait on the emergency services
Call 999 or 112