Dozens of tyres illegally dumped by the roadside
Published: Tuesday 13 April 2021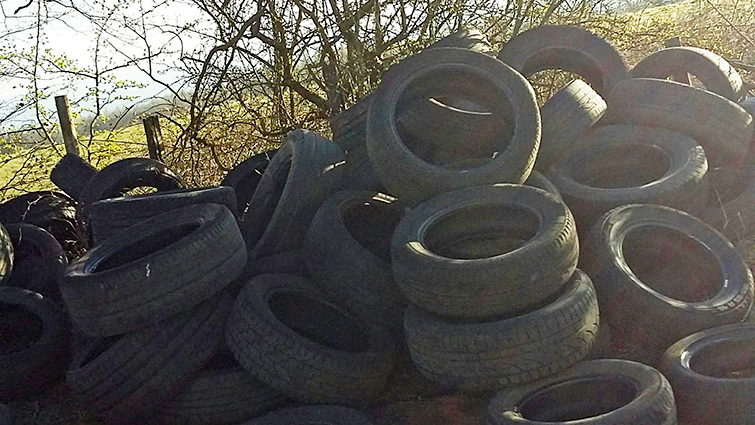 A council team has today removed almost 100 tyres illegally dumped by the roadside in Blantyre.
Now, local people are being asked to help identify the culprits whose actions could have had fatal consequences for road users on Sydes Brae.
Alistair McKinnon, Head of Facilities, Waste and Ground Services described the incident as 'illegal dumping on an industrial scale' and urged anyone with information to get in touch.
He added: "The tyres were discovered this morning on a blind corner on a national speed limit road, just 150 metres beyond the entrance to the crematorium. These actions show contempt both for the law and for the safety of anyone using that road, given the potential for a serious accident.
"Not only that but when tyres are abandoned they are open to vandalism or fire-raising with the unthinkable consequences such anti-social behaviour could create.
"We believe the tyres must have been dumped last night or in the early hours and with such a volume was obviously an organised disposal that would have taken some time to unload. This is a well-used route and we hope that someone may have witnessed what happened and have information that can lead us to those responsible."
Tyres are not accepted at the council's household waste recycling centres but can be disposed of legally through specially accredited centres across central Scotland. The tyres removed this morning were taken to a licensed specialist from where they can be recycled as rubber crumb for use on 3G-4G football pitches.
Anyone with information on this incident or who wants to report concerns about illegal dumping across South Lanarkshire can call 0303 123 1015 or get in touch via the website