Roads litter clean concludes this weekend
Published: Friday 26 March 2021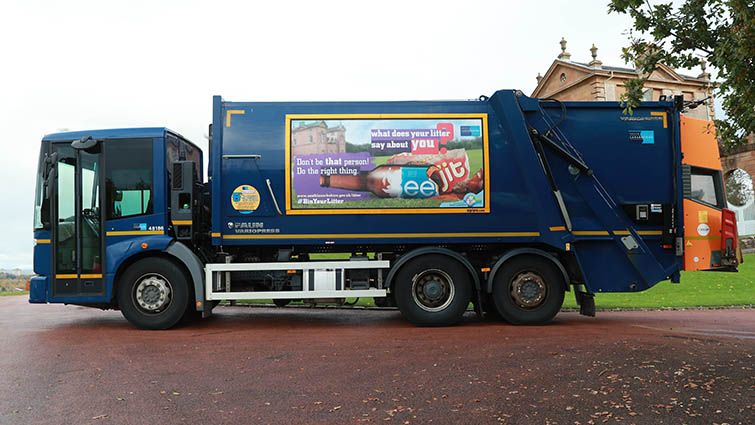 The litter clean-up project on roads in and around East Kilbride and Clydesdale concludes tomorrow.
Community Resources teams have undertaken the project over more than 65 miles of primarily rural roads since the start of March, collecting tonnes of discarded litter and waste along the way.
Among them have been tourist routes, including the A72 Clyde Valley Road, which leads tens of thousands of visitors a year to some of South Lanarkshire's most scenic spots.
Tomorrow – March 27 – focus will be on:
Stoneymeadow Road round to Nerston via Crookedshields Road, East Kilbride
A71 Stonehouse bypass both sides to and from Canderside roundabout to Strathaven church
A721 Harelaw roundabout to Carluke
B7086 Lanark to Kirkmuirhill
Dillaburn Road, Lesmahagow to B7086
As with previous weekends in March, each road will be reduced to one lane between 9am and 4pm to ensure the safety of the workforce on the roads and verges. Drivers are advised to prepare for potential delays or, where possible, to consider alternative routes.
Alistair McKinnon, Head of Facilities, Grounds and Waste Services, said: "This has been a necessary project which once again has shone a spotlight on what, I'm disappointed to say, remains a significant issue. Despite the fact that the vast majority in our communities take responsibility for the environment they live in, there are still far too many who think it's someone else's problem. The fact is that this attitude makes it a problem for all of us.
"Many of the roads we have focused on this month are rural, and lead in and out of historic towns and villages, beauty spots and tourist attractions. It's sad for all of us that, for many visitors to these places, a litter-strewn road is their first welcome to South Lanarkshire.
"There is simply no excuse for this type of selfish and irresponsible behaviour and we would continue to encourage anyone who witnesses the dumping of illegal waste to let us know through our website."
The council recently launched its new anti-litter campaign, urging everyone not to be 'an eejit' when it comes to disposing of rubbish. The campaign will continue to roll out through the coming year, with a focus on beauty spots and areas which are frequently blighted by the dropping of litter, alongside a reminder of the penalties those responsible can face.
We are also supporting Keep Scotland Beautiful's 'Give your litter a lift' campaign which encourages all motorists in Scotland to respect the shared environment and do 'one simple thing' to keep litter off our roads.
Further clean-up projects will be planned throughout the year, full details of these, and the results of them, will be shared here on our news website.