Pioneering project delivers new electric vehicle charging hub
Published: Wednesday 30 September 2020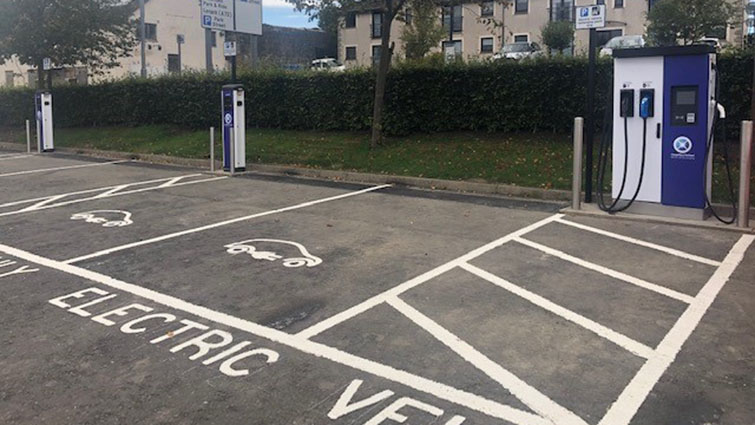 A new public Electric Vehicle (EV) charging hub has opened in Carluke.
The new hub comes as part of an on-going partnership involving SP Energy Networks, the Scottish Government and South Lanarkshire Council.
Charging infrastructure has been installed on Carnwath Road in Carluke as part of Project PACE, which aims to create over 40 charging hubs across North and South Lanarkshire by April next year.
The Carluke charging facility is situated in the South Lanarkshire Lifestyles car park, close to the town centre, allowing drivers to charge their EV while they visit local shops, cafes and leisure facilities.
SP Energy Networks utilised its extensive knowledge of South Lanarkshire's electricity network and worked collaboratively with local stakeholders to identify the optimal charging location for the site. By using charging locations that make clever use of the existing electricity network, Project PACE could potentially achieve between £30,000 and £60,000 average savings on electricity grid connection costs per new location. This equates to a total of between £1.3 million to £2.6 million of taxpayer money saved across all the planned sites.
Carnwath Road is the second site to go live from Project PACE, following the successful launch of the first location at Strathclyde Country Park in August, which has already delivered over 950 charging sessions.
Councillor John Ross, Leader of South Lanarkshire Council said: "We are delighted to see this new charging point in Carluke coming online as the roll out of an ever-improving EV charging network in South Lanarkshire continues.
"It is a great example of partnership working and allows us to build on our ongoing investment in infrastructure, helping the country meet climate change targets.
"Project PACE is making a real contribution to improving sustainable, low carbon travel opportunities across Lanarkshire, and of course is part of the wider EV Strategic Network that will benefit the whole of Scotland.
"To encourage people to use electric vehicles the infrastructure has to be there and every additional site that opens helps make cleaner, greener travel a practical option for more of the population."
Scott Mathieson, Director of Network Planning and Regulation at SP Energy Networks, said: "Widespread rollout of publicly available EV charging sites is essential to meeting both the Scottish and UK government's Net Zero targets so I'm proud that we're leading the way through Project PACE.
"This new site on Carnwath Road has been strategically chosen so it's of maximum value to drivers in a busy and easily accessible location. We're committed to helping to tackle the climate emergency and this project is a great example of how working collaboratively can help both the environment and our customers across Lanarkshire.
"Project PACE serves as a blueprint for other areas across the country to show how we can ensure every community has access to charging points through Scotland's electricity networks and in turn support the green economic recovery."
Local charging locations will be hosted by South Lanarkshire Council in council car parks with every community hub chosen to help fill gaps in the current public provision for EV users.
Charging hubs are planned for locations including the Ally McCoist Complex in East Kilbride, Chatelherault, Lanark Loch and Regent Drive Car Park in Rutherglen.
Project PACE supports the Scottish Government's ambition to phase out the need for new petrol and diesel cars and vans by 2032.
The Scottish Government's investment of £5.3million in the project will help deliver up to 180 new public EV charge points on the ChargePlace Scotland network aiming to more than triple EV charging capacity across Lanarkshire by April 2021.
Project PACE is being delivered by SP Energy Networks, which has invested £1.2million in the project, as part of the EV Strategic Partnership between the electricity network companies and the Scottish Government which was announced by the First Minister in August 2019.
Latest plans for the EV charging locations can be found at on the PACE website.