School first in the UK to be re-accredited for award
Published: Wednesday 19 August 2020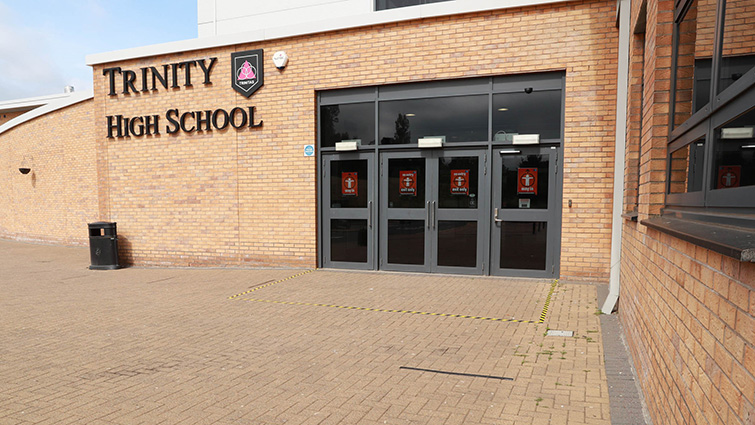 A Rutherglen secondary school has become the first in the UK to be re-accredited for an award for their work in Nurturing.
Trinity High School have been awarded the "Marjorie Boxall Quality Mark Award" for the second time, for its ongoing work in the area of Nurture.
The award reflects the school's commitment to promoting healthy outcomes for children and young people, primarily by focusing on emotional needs and development.
Head Teacher Peter Bollen said: "We are proud to have regained this award which confirms our hard work in helping all the pupils who come into the school.
"The work in doing this was completed before we went into lockdown but with the school returning this month it's an ideal time to share this good news.
"Nurture helps us to support young people and offers our pupils the possibility of a better pathway and to face life with a positive attitude – something that is of course very relevant in these unprecedented times."
Chair of South Lanarkshire Council's Education Resources Committee, Councillor Katy Loudon, said: "This is a wonderful achievement for Trinity High School and a huge congratulations to all the staff, pupils, parents and carers and the school community who have made this possible.
"Nurturing has significant influence on social emotional skills, wellbeing and behaviour and this is then often reflected in academic achievement.
"Given the impact of the global pandemic, this aspect of school life at Trinity is likely to come into focus even more in the coming months."
The school had to submit evidence of its work in the area of Nurture, followed by a rigorous check including visits, interviews with young people, check on training
and classroom observations.
A Nurture Base has been established at the school and is now regarded as a hub for training, advice and support.
What Is Nurture?
The concept of nurture highlights the importance of social environments – who you're with, and not who you're born to – and its significant influence on social emotional skills, wellbeing and behaviour. Children and young people who have a good start in life are shown to have significant advantages over those who have experienced missing or distorted early attachments. They tend to do better at school, attend regularly, form more meaningful friendships and are significantly less likely to offend or experience physical or mental health problems.
The nurturing approach offers a range of opportunities for children and young people to engage with missing early nurturing experiences, giving them the social and
emotional skills to do well at school and with peers, develop their resilience and their capacity to deal more confidently with the trials and tribulations of life,
for life.
More information on nurturing is available from the Nurturing UK website.
The school achieved an MB Quality Mark Award for their work in Nurture. They are the first Secondary in Scotland and the UK to be re-accredited for this work and for
the difference this is making to the lives of many young people.