Driving improvements on local roads
Published: Friday 19 June 2020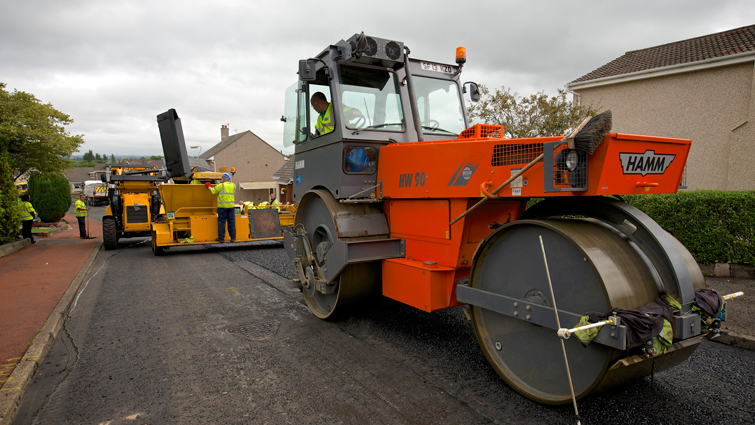 Investment has delivered major improvements to the condition of South Lanarkshire's roads network.
An independent analysis for the Scottish Roads Condition Maintenance Survey has revealed improvements made by South Lanarkshire Council have cut the cost of outstanding carriageway repair work by almost £50 million.
The figures are included in a report on the Road Assets Management Plan prepared for South Lanarkshire Council's Community and Enterprise Committee.
Chair of the Community and Enterprise Resources Committee, Councillor John Anderson, said: "This most recent analysis shows a £47 million improvement in the overall condition of our roads, that translates as a huge success in slashing the outstanding repair costs by a third."
"We have also jumped a dozen places in Scotland's Road Condition Index rankings to seventh place, but while these figures are welcome news we must also recognise them as a reminder that there is still a lot to be done."
The report also shows the annual cost of just maintaining South Lanarkshire's 1,426 miles of roads in their current condition is an estimated £12.5 million.
Progress has also been made in replacing older street lighting columns.
South Lanarkshire has already completed a massive programme of modernising street lights with some 60,000 energy saving LED lights installed over three years from 2015, as part of that work 7,250 lighting columns were completely replaced.
The report highlights that at the start of that programme almost fifty percent of all lighting columns had exceeded their design life that figure has now been brought down more than 10 percentage points to just over 37%.
Of the 775 road bridges, foot bridges, culverts and subways included in the council network the report identifies a need for continued investment and welcomes £6 million committed to re-opening two bridges in Clydesdale.
It also highlights the need for further work to upgrade traffic lights and pedestrian crossing and points to significant success in securing external funding to support such work.
Finally the report identifies 43.3 km of vehicle restraint systems (such as barriers) and highlights the need to look at a investment in this area.
Head of Roads and Transportation Gordon Mackay said: "This update on the Roads Asset Management Plan (RAMP) is a useful reminder of the progress that has been made through our investment in our network.
"It also underlines the costs associated with maintaining and improving roads, footways and associated infrastructure and the many factors that come into play as we consider and prioritise the use of funding and resources.