Theatre group use online meetings to spark creativity
Published: Friday 12 June 2020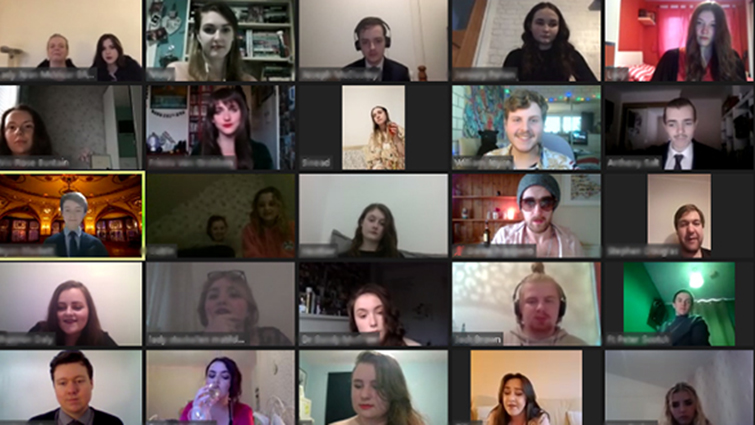 A youth theatre group have been meeting up online during lockdown to take part in interactive drama sessions.
Vertigo Theatre for Youth, a group based at East Kilbride Universal Connections and supported by South Lanarkshire's Youth, Family and Community Service, have also been using the online catch-ups to discuss how they are feeling and planning projects to keep themselves creatively engaged.
Every Thursday evening, an average of 22 young people from the senior group meet up virtually. The projects they have been involved in include story-telling videos for children and families, including stories told in BSL and Makaton, that are published weekly.
The young people have also been producing videos of themselves performing music from their homes. In the last week, the videos by the young people reached over 1,200 members of the public and have had 395 engagements.
The Vertigo Committee of young people have been meeting regularly and are making contact with the younger members of the group who do not use social media.
Members of Vertigo are also currently working on writing poetry and monologues that represent their experience of lockdown, often concentrating on the positive aspects of this.
These initiatives all aim to encourage young people to help support each other's mental health, and to create a support network for young people during the current crisis.
South Lanarkshire Council's Spokesperson for Youth, Councillor Julia Marrs, said: "It is fantastic to hear about how these young people are using technology to not just talk about their mental health, but to also plan and broadcast performances that entertain others.
"It's such an inspiration and a great example of how our young people are overcoming the barriers they face during this current crisis.
"There are many more examples like this throughout South Lanarkshire and I just want to say how proud I am of our young people in coming up with these innovative and brilliant ways to help one another through this period."
Find out more about the group on their Facebook page.