The paintings that revealed a lost family history
Published: Tuesday 26 May 2020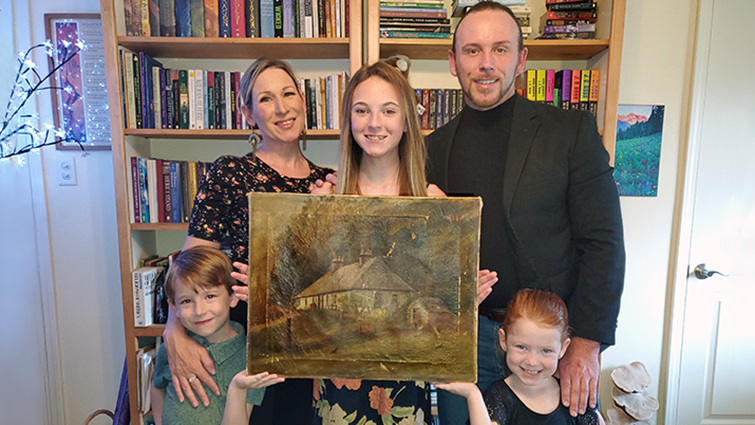 A project putting South Lanarkshire's art collection online has provided a vital link for an American family history researcher.
James Rawlings of Louisiana had been painstakingly piecing together his family's ancestral roots but found himself struggling to make the next link in researching their Scottish line when two paintings in the online collection of Low Parks Museum showed up in his search.
James said: "My father died young as did his father before him and as a result the story of that line in my family tree had largely been lost but I set out to piece it together.
"It was in the early hours of the morning when I suddenly, and quite unexpectedly, made a significant breakthrough thanks entirely to Low Parks Museum in Hamilton, Scotland.
"I had already established a paternal line of Scottish ancestry when online searches resulted in two portraits from the museum the family resemblance was spine-tinglingly obvious. And although this was an exceptional discovery, the fascinating revelations did not stop there!"
What James had discovered were portraits of his ancestors Malcolm B Watt and Alison P Watt that had been put online as part of a project more than a decade earlier aimed at making South Lanarkshire's art collection more accessible.
The Low Parks Museum team created both their own online collection and also linked it to the Public Catalogue Foundation's ART UK website, where publicly held artwork from across the UK is brought together on one platform.
The story does not however end there for not only is Malcolm B Watt the subject of a portrait, in which he bears an astounding resemblance to James Rawlings' father (also James), he was an artist in his own right and James was able to find his ancestors work in the museum collection.
South Lanarkshire leisure and Culture Museum Officer Sharon Paton said: "What James found was a painting of The Hoolet Raw in Chatelherault by M.B. Watt and the really exciting thing is it has a sister painting passed down through the generations of his family.
"James told us the family had long wondered what and where the painting depicted and said that when the mystery was solved in the early hours of that morning he was worried his celebrations would wake up the whole family."
James said: "Although the painting had been passed down through the generations we had never known who the artist was and to be honest we are quite lucky to still have it as it was nearly thrown away on several occasions.
"The painting is showing its age but now we know my ancestor M.B. Watt was the artist it will be given much more care, it is a window on the past and to our family history."
Now having confirmed the South Lanarkshire link James is continuing to uncover more of his family's story and is researching possible burial sites which he hopes may lead to other descendants and perhaps provide a connection to family still living in Scotland.
Are you related to the Watts in the portraits? James is also trying to establish links to Scottish landscape painter John B Fleming, whose family came from the Avondale area.
If you have you details which might assist James with his research then you can get in touch via Low Parks Museum