Focus on flooding for last day of Winter Awareness campaign
Published: Friday 8 November 2019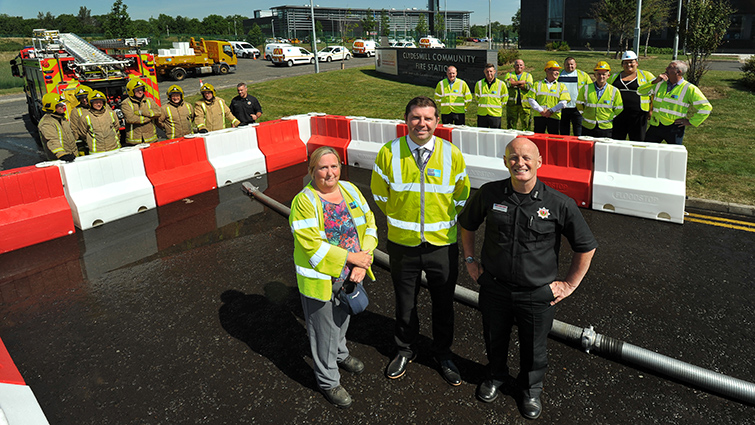 In the last day of our annual Winter Awareness Campaign, we turn our attention to issues caused by flooding.
Although winter weather usually makes people think of snow and ice, in recent years flooding has also caused problems with prolonged periods of very heavy rainfall.
If you have any concerns about flooding, contact us on 0800 24 20 24 at any time or any roads office during office hours.
If you live in an area prone to flooding you can sign up to the Scottish Environment Protection Agency's free Floodline alert system.
Council flood scouts monitor known flood risk areas when rainfall, and clear anything that might block culverts.
Who is responsible for what?
• Road repairs - the council repair any road we have responsibility for that has been damaged by floods, landslips or mining subsidence
• Flood warnings - the Scottish Environment Protection Agency (SEPA) issues these and works with police and councils to identify flood risks
• Drainage and sewage - Scottish Water are responsible for the combined main drains/sewers. The council are responsible for road drains and the pipes which convey surface water into the Scottish Water drainage system
• Flood protection - landowners are responsible for this and insurance of their land and property
• Flood risk management - as a planning authority the council have taken steps to reduce the risk of flooding of non-agricultural land. We also promote flood protection schemes, assess and maintain watercourses
The council can also install flood barriers across South Lanarkshire to protect property and infrastructure in the region.
The mobile 'Floodstop' barrier is a flood defence system which can be assembled to any length or orientation by connecting one metre long modular units using weighted keys (see photo above).
Head of South Lanarkshire Council's Roads and Transportation Services, Gordon Mackay, said: said: "We have invested £40,000 to add this portable barrier system to our flood management resources and had a trial run last year. This let us see that it will provide effective protection to help reduce the risk of damage and disruption caused by flooding.
"We are grateful to our colleagues in Scottish Fire and Rescue for their help as our team test and familiarise themselves with the Floodstop system and we will continue to work closely with them to identify flood risks and potential measures to reduce that risk."
For more information and to see what to do after a flood see the council's Flooding advice and support pages.