Hamilton pupil wins annual Road Safety Calendar Competition
Published: Thursday 19 January 2023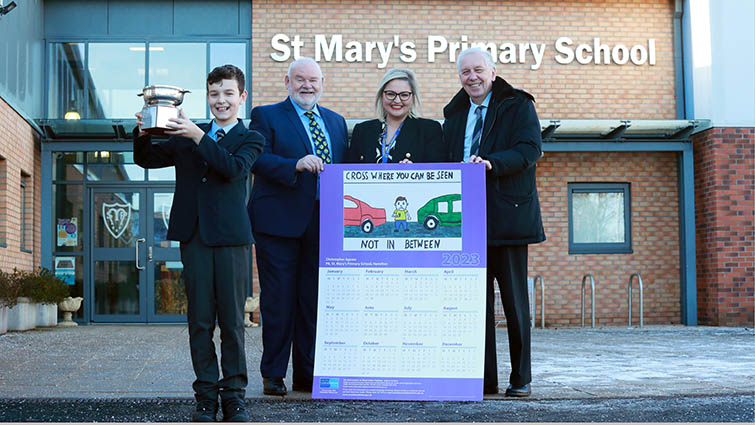 A Hamilton primary school pupil has scooped the top prize in the council's annual Road Safety Calendar Competition.
"Cross where you can be seen, not in between" was created by Christopher Agnew, a P6 pupil at St. Mary's Primary School in Hamilton
The overall winning entry features a drawing to illustrate the dangers of crossing in between parked cars. It demonstrates a pedestrian standing in between parked cars, unsure as whether to cross or not.
Chair of South Lanarkshire Council's Roads Safety Forum, Councillor Davie McLachlan said: "Well done to Christopher for his excellent drawing and to all the pupils who entered this year's Road Safety Calendar Competition.
"The standard of entries as well as the creativity and ideas were outstanding with important messages about keeping safe on or near the roads.
"Parked vehicles cause hazards for both pedestrians and drivers. Not only do they block the view of oncoming traffic for pedestrians, but it is also difficult for a pedestrian to be seen by the driver. There is also the risk that the parked vehicle may move forward or reverse."
Chair of the Council's Community and Enterprise Resources Committee, Councillor Robert Brown said "Congratulations to Christopher for an excellent entry which will be a great visual throughout the year and thank you to all the schools that supported this year's competition.
"This is an important reminder to all pedestrians to cross away from parked cars. Always look for a safe place to cross the road. If you can not find an official crossing, then find the clearest area and use the Green Cross Code to help you cross safely. Drivers should also be vigilant for the possibility of hidden pedestrians where there are parked vehicles present."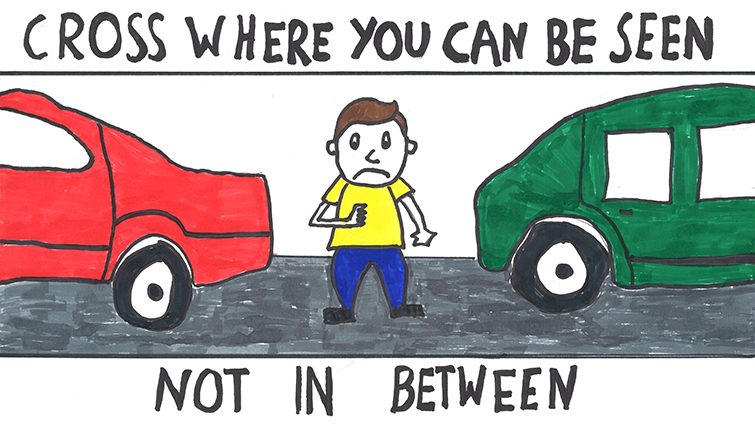 Christopher's winning entry was chosen from 3,133 drawings received from 100 schools.
The competition is run annually by South Lanarkshire Council's Traffic and Transportation Section and all schools in South Lanarkshire are invited to take part.
Christopher's winning entry has been featured on the Road Safety Calendar for 2023 which is distributed across all South Lanarkshire schools and selected office locations.
The winners of each group were also rewarded for their designs with highly commended certificates also issued to pupils whose artwork or road safety messaging stood out.
Topics are set for different age groups within the competition, including 'Safe crossings / people who help us' for Primary 1 and 2, 'Safety when walking, cycling, scooting or wheeling for Primary 3 and 4, 'Dangers of crossing near parked cars' for Primary 5 and 6, 'Safety at school entrances' for Primary 7 and 'Pedestrian or driver / rider distractions' for S1 – S6 pupils.