Foster families offer lifeline for vulnerable children
Published: Friday 17 May 2019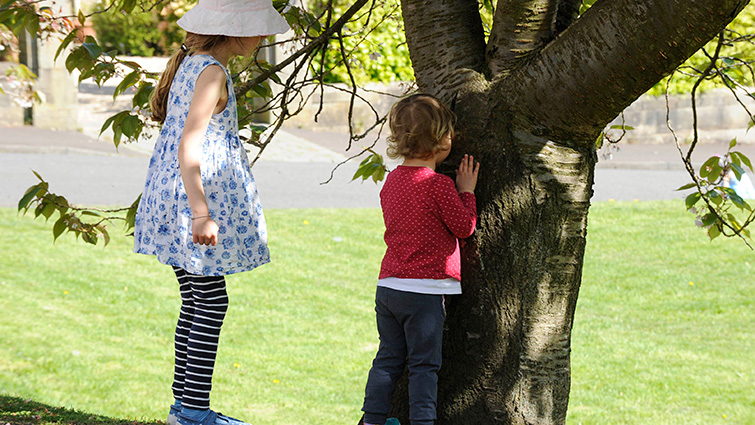 Even as a teenager *Jillian knew she wanted to care for children.
Fast forward almost three decades and she and husband *Gordon have seen that dream become reality as part of a network of foster families supporting some of South Lanarkshire's most vulnerable youngsters.
In the second of our spotlights for Foster Care Fortnight the couple – a teacher and a police officer – tell us how each of the 40+ children they have cared for over the last decade has enriched their lives, and spurred them on to open their hearts and their homes to those who need it most.
Explains Jillian: "This is something I always wanted to do and I really believe that my teaching career had prepared me well for taking that step. Gordon, as a police officer also regularly witnesses life on the front line and we know what poverty, neglect and trauma looked like.
"So, when our own three children were all school age we set the wheels in motion to expand our home and our family. We were open and honest with our kids and they understood as much as young children could; and now as teenagers they know exactly why we do what we do; because it changes lives."
Jillian is quick to point out however that picking up the pieces of fractured lives can be a challenge, and initially that was tough for her children to understand.
"The kids have opened their hearts to this and as they have grown older it has given them a unique insight into the how other people live. Early on in our journey, one little boy arrived with all his worldly possessions in a plastic bag, which really consisted of a few old toys.
"One of our kids really took this to heart and just sat and wept on the stairs. It was so hard to take in."
Currently Jillian and Gordon foster three children, including two siblings, and are getting ready to support their youngest in a transition to his 'forever family'.
Gordon cites this potential emotional wrench as 'the best possible outcome'.He adds: "For us, this is the success; he will now have a new family and a safe, secure and stable background to support him through whatever his future holds."
Adds Jillian: "I beliveve strongly that this is where my teaching background helps. I'm used to moving children on. I'm just a small part of their journey, not the destination. And, it's what's best for the child that really matters. I try to put that at the centre of everything we do.
In that vein, the couple say a key pledge is never to judge a situation too harshly. "Being a parent is hard work", says Jillian, "Imagine trying to bring kids up if you're poorly educated, living in poverty, dealing with addiction or domestic violence. Some just simply can't make it work; many have never been 'parented' themselves.
"But what we have seen is that many can - and do - turn their lives round with access to support and early intervention, and the knowledge that their children are safe until they can take care of them again."
Foster Care open evening - May 22nd 5-7:30pm, Corporate Dining Room, Council offices, Hamilton.
Lana Jordan is the couple's support worker within the Children and Family Services team. She echoes all of their advice and adds that whilst foster carers come from all walks of life, those with experience on the front line, often don't realise just how much they can bring to a young person's life.
She explains: "Teachers, police officers, healthcare workers and many more in public service employ skills every day that could turn a young life around.
"The majority of foster carers, like Jillian and Gordon, register firstly as interim and emergency carers, taking in children at short notice for short periods. And while many stick with this, we often see that relationships are created, bonds are built, and carers transition (following a new process) to becoming longer term foster families.
"Foster care fortnight is about sharing these stories – the highs and the lows – and encouraging those who may be thinking about it to come and talk to us. From the very beginning we offer support and advice, and are there throughout the journey for our foster families. So many people have so much to offer and maybe just don't realise it.
"All we ask is that there's room in your home and your heart."
Jillian and Gordon couldn't agree more: "Welcoming a child who may have known little love or affection, or who has just been used to living in chaos, is undeniably tough. But for me, that's what makes it worthwhile. We are able to offer a haven, a safe place, a chance to grow. Children's needs are really very basic – love and safety. We provide both whenever we are needed and will continue to do so for as long as we can."
You can find out all you need to know about becoming a foster parent on our website. Meanwhile an Open Evening has been set up to allow anyone interested in fostering to meet with the Family Placement Team to talk about the way ahead. It's on May 22nd 5-7:30pm in the Corporate dining room, Council offices, Almada Street. All welcome.
*not actual names