Twenty will be permanently plenty around 88 schools and six town centres
Published: Tuesday 30 November 2021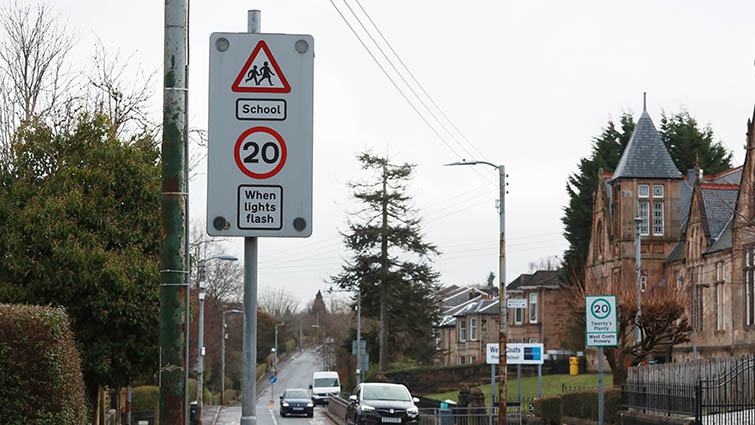 Mandatory 20mph limits, making driving safer around schools and town centres, are to be made permanent.
In response to the Covid-19 pandemic, Scottish Government Spaces for People funding supported councils to make temporary measures that assisted social distancing and encouraged active travel in busy or congested areas.
South Lanarkshire Council received £750,000 for the outdoor school environment and £100,000 for town centres to enable these temporary measures to be put in place at 88 schools across South Lanarkshire and 6 town centres, Strathaven, Bothwell, Larkhall, Uddingston, Carluke and Lanark. Mandatory 20mph limits along with coloured road surfacing, road markings were installed with further areas, not part of the scheme, considered for inclusion later.
Evaluation of the scheme alongside public consultation was carried out, showing a widespread reduction in mean speeds noted and majority support for the scheme, leading to these changes now becoming permanent.
Councillor Julia Marrs, Chair of the Roads Safety Forum, said: "This is a step change for the safety of pedestrians, drivers and the environment.
"The school and town centre 20mph speed limits have had a positive impact on reducing the speed of vehicles and consequently have increased safety, with every 1mph reduction in speed associated with a 5% reduction in potential collisions involving pedestrians. Feedback has been positive – and in the case of the measures around schools, greatly supportive of the scheme continuing to contribute towards our roads being the safest they can be.
"Making roads safer means more people are comfortable in walking and cycling in these areas, bringing added benefits for health and the environment.
"Continued working with Police Scotland on enforcement and fine tuning of area signage will mean that the good start to this behavioural change, with a slow-down around schools and in towns, should become a new norm for drivers and in accordance with a public wish to see slower, safer roads.
"As part of this, further town and village settings will be reviewed as suitable for 20mph speed limits and schools that do not have either full-time or part-time mandatory 20mph speed limits will be considered for whichever version is most suitable."